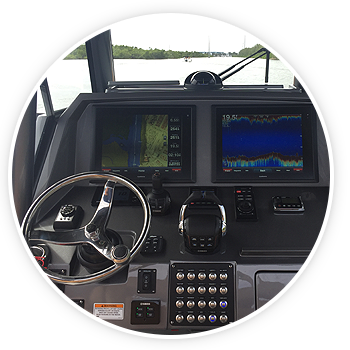 Marine Electronics Installers has highly trained technicians whose specialty is Center Console boats.
Whether you have a 17 foot Montauk Boston Whaler or a 39 Tournament Contender we can get it rigged properly according to your specifications. Due to major increases in Marine Electronic technology the underneath of a typical center console can get complicated fast. Don't get in over your head - give MEI a call. Our Center Console techs are experts at following the labyrinth of wires and aren't fazed by the marine schematics which tend to regularly read like Hieroglyphics.
The majority of center console boats controls are located inside the console. Steering, Throttle, Ignition, Trim Control, Radio, Stereo, AutoPilot, Switches and other electronic devices call the center console home. Interference is common when combining these robust marine electronic technologies. Specifications from the manufacturers denote how far certain cables and wires must be from each other. Put one in the wrong place and lights will be flickering and electronics malfunctioning.
Garmin and Simrad are mainstays in the marine industry and have a multitude of products that work in tandem with their GPS systems.
Chartplotters, Combos, Sonar Modules, Panoptix, Fishfinder / GPS Combos, Transducers, Radar, Autopilots, Communications, Instruments, Wind Sensors, Antennas & Sensors, Echo Sounders, AIS, Weather, Audio, Marine Charts,Tiller Pilots, VHF Radio, Compasses, NSS Touchscreen Navigation, NSO Systems and Marine Monitors.
Marine Stereo Packages are the best way to save money by bundling the accessories. Fusion, JL Audio, Wetsounds, JBL, Pioneer, Clarion, Poly Planar are stalwarts in the marine audio arena. MEI has installed a lot of Marine Stereo Systems for center console boats. Certain nuances and protocols must be met to ensure your devices function properly. Some of these components have been marinized but others must be tucked away high and dry inside the center console.


We are local to South Florida!
Get in touch with our marine specialist
GOST (Global Ocean Security Technology) has many products on the market that are excellent for keeping track of the vital functions on your boat.
GOST Phantom Insight HD is an all in one Wireless security with a plethora of features. Monitoring & HD Surveillance with 2 way voice communication thru GOST 3G Quad band GSM Voice and Data Communicator. This extensive monitoring system was designed to contact up to eight phone #'s to alert and notify owners of events before they become catastrophic. High water in the bilge, Smoke or intrusion, loss of shore power, low battery voltage. Wireless relays are easily added to give complete control of any AC (Alternating Current) or DC (Direct Current) powered devices on your boat with a key fob or remotely via your phone or smart device. Imagine being able to call a few hours before your arrive to cool down the boat by running the AC or starting the ice machine. These same Wireless relays can be used to activate a siren or flash your lights when an intrusion is detected.
GOST Tracker uses Inmarsat Satellite based GPS Tracking, remotely control with GEO fence and track your vessel online across the Globe. This Cloud based tracking platform has received the highest awards by the US Coast Guard for their assistance in the recovery of many high profile vessels. NAV TRACKER remains the only satellite ship, vessel, boat & yacht tracking system to receive a medal from the United States Coast Guard for its assistance in recovering stolen vessels in the Bahamas. Some boats have been returned within an hour. GOST Watch HD 3G Package gives you the ultimate in Hi Def Surveillance incorporated with a high speed internet connection thru 3G QUAD band GSM Voice and Data Communicator.