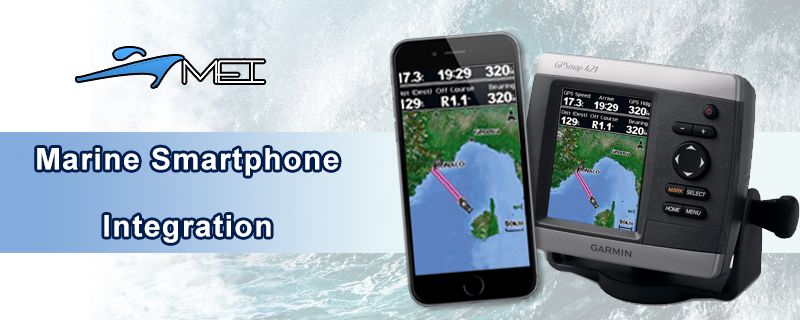 Today's world runs on smartphones. As smartphones become faster and more advanced, they have also developed new applications far beyond mere phone calls and web browsing. What are the pros and cons of marine smartphone integration?
The cons of marine smartphone integration
Some people are trying to switch over to completely smartphone based marine navigation. Truthfully, Marine Electronics does not recommend this. While smartphones can be useful for simple navigation, they do not offer nearly as much as a specialized marine system.  Why rely on a smartphone to vaguely guide you to your favorite fishing spot when you could have a brand new Garmin fish finder and navigational tool that can give you visual readouts that you could never see on a tiny screen.Smartphones are also extremely vulnerable in the wet and salty environment that accompanies boating. Specialized Marine electronics are specifically made to be waterproof and wear resistant so that you can enjoy your gadgets for years and without worry.  
Another concern of total marine smartphone integration is actually viewing the device. Just as it is not permissible to be texting while you drive, there are also issues with boating while using a smartphone. The small screen is hard to read and any amount of time not paying attention to the water creates the possibility of an accident. Marine electronics utilize large, easy to read graphical displays and even auditory cues to get you the information you need while keeping your attention where it is needed most. Marine fishfinder and navigation tools also have specialized screens that are made to be read in direct light and prevent glare while reading a smartphone display during the daytime can be near impossible.
So what are the pros of marine smartphone integration?
All this being said, we must admit that the new innovations on smartphones and tablets are a great addition to the already amazing capabilities of fish finders and navigational chart plotters and reef locators.Marine electronics are becoming more and more advanced and are starting to integrate smartphone friendly features. Major marine electronics brands are introducing apps that are compatible with their devices. Raymarine has RayControl that turns an apple tablet into a Raymarine MDF. Garmin has BlueChart, which allows you to chart routes while on land and automatically send them to compatible Garmin navigation systems. These are great additions to traditional marine electronic technologies that allow avid boaters to get more out of their devices on and off the water.
Whether you want to fully embrace marine smartphone integration or you would like to rely solely on specialized marine electronics, MEI can create the perfect solution for you. If you are thinking about installing lighting, a sound or entertainment system, or a center console, visit us on the web  or give us a call at one of our three locations. Speak with one of our marine tech experts and see what MEI can do for you!
FORT LAUDERDALE (954) 306-6665 | WEST PALM BEACH (561) 328-7231 | STUART (772) 634-6055
Marine Smartphone Integration