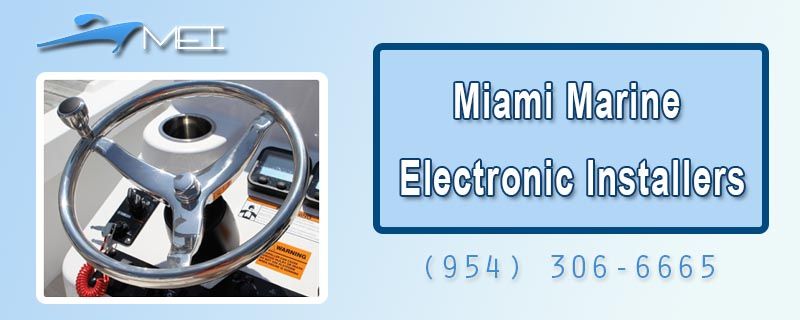 Marine electronics have seen some amazing advancements in the last 30 years including the AUTOHELM, RADAR, and GEONAV. When you pull out your smartphone and see your satellite position in high definition with up to 1 foot accuracy, you're enjoying years of compounded inventions and technology. At one point the thought of these advancements was laughed at in science fiction movies for being impossible and only used by the super villains. But now this technology is more real than ever and are an integral part of marine electronics. In order to keep your vessel safe and up to date, call the leading Miami marine electronics company, MEI.
The inventor of the AutoHelm, Derek Fawcett, brought his first autopilot to market in 1974. His goal was to make a low cost autopilot geared primarily toward leisure vessels.  He coined the name Autohelm and soon it became the top choice for autopilots around the country. Autohelm became equivalent to autopilots and they are still a leader in the industry today under their new company name, Raymarine. The original system used a DC 12volt power supply and a hydraulic guidance arm to change the tiller. The model had an outside wind vane that would give wind angle data. The AutoHelms function was to aim the vessel to the proper wind angle so that the vessel would stay on course based on the angle that was desired by the sailor.  Fawcett also developed the audio compass that would empower blind helmsman by making beeping sounds based on your course, the machine would beep faster if the vessel was going off course. He actually loaned out his devices to sailors in need rather than seeking a profit.
There are both electrical based and mechanical based autopilot options. Mechanical self-steering systems are best suited to sailboats while yachts and larger fishing boats will most likely require an electronic system.  The advantage of a mechanical system is that they are easier to repair on the fly- an especially favorable attribute while out at sea for extended periods. However, they are not capable of handling the complexities of larger industrial and leisure vessels. There are multiple different ways that an autopilot can change the course of a vessel including altering the rudder limit and rate of turn or using steering gear pumps to move the rudder in a different direction.
While autopilots are extremely helpful, they are not meant to completely replace the captain of a ship. Autohelm was created to assist in the steering of the ship so that whoever is manning the vessel can focus on other things, such as routine vessel checks, in addition to keeping the ship on course. Autopilots have a manual override mode which is essential when navigating high traffic waters, narrow channels or straits, or when weather becomes inclement. Even with these instances in mind, there is no doubt that an autopilot system is a fantastic and sometimes necessary addition to your commercial or leisure marine vessel. You know that you can trust the Miami marine electronics company, Marine Electronics Installers, to get this important job done safely. But this is not all that we do!
Whether you are looking to add some comfort to your boat with new LED lights or a speaker system or are in need of an essential, such as a radar, call Marine Diesel Installers or visit us on the web at marineelectronicinstallers.com  to see how the leading Miami marine electronics company can help elevate your boating experience.
FORT LAUDERDALE (954) 306-6665
WEST PALM BEACH (561) 328-7231
STUART (772) 634-6055
Miami Marine Electronics