Monitoring & Digital Switching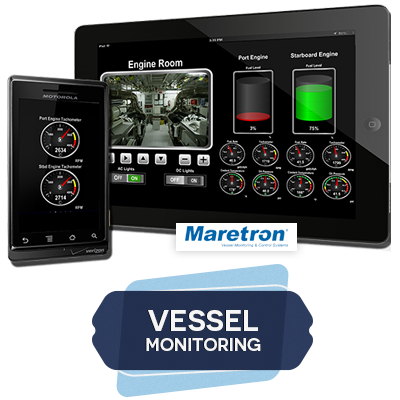 Marine Electronics Installers cannot stress enough the importance of a great vessel monitoring and control system.
Maretron consistently finds themselves at the head of the class. Not only for safely keeping an eye on your boat but monitoring the most crucial system resources. There are a multitude of end user interface products which will allow you to see and monitor your vessel from afar. NMEA 2000 gateways and bridges, Tank monitoring, Engine monitoring, Electrical monitoring and control, General monitoring plus Navigation instruments are just a few of the many crucial systems which can be viewed from Android, iPhone & iPad.

Displays, Software and annunciators are the main ingredients for common user interface products. Alerts can be sent via short text message (SMS) and through common smart devices such as iPhone and Android. Depending if you are concerned with monitoring your boats core systems while underway (Alarms = Annunciators) or remotely (Alerts = text or smart device) from your house or workplace. Maretron's N2KView proprietary software rapidly displays in real time the information you require including engines, generators, tanks, rudders, navigation instruments, local weather, and a plethora of other options
Maretron products
Find what you're looking for quick & easy
User Interface Products
N2KView (Vessel Monitoring and Control Software)
N2Kview Mobile (N2KView for the Iphone / Ipad / Android
TSM800C (8 inch Vessel Monitoring and Control Touchscreen)
TSM1330C (13.3 Inch Vessel Monitoring and Control Touch Screen)
MBB200C (Black Box Vessel Monitoring and Control)
Maretron Cloud Services (Remote Access)
DSM150 (3.5 Inches High Bright Color Display)
DSM250 (Multi Function Color Display)
ALM100 (Alarm Module)
SMS100 (SMS Text Messaging Module)
E2500 (Wireless Router)
NMEA 2000® Gateways / Bridges
IPG100 (NMEA 2000® / Internet Protocol Gateway)
J2K100 (NMEA 2000 / J1939 Gateway)
NBE100 (Network Bus Extender (NMEA 2000 Bridge)
USB100 (NMEA 2000 / USB Gateway)
Tank Monitoring
FPM100 (Fluid Pressure Monitor)
TLA100 (Tank Level Adapter)
TLM100 (Tank Level Monitor [40 Inch Depth] TLM150 (Tank Level Monitor – Gasoline)
TLM200 (Tank Level Monitor[104 Inch Depth]
Engine Monitoring
FFM100 (Fuel Flow Monitor)
J2K100 (J1939 to NMEA 2000 Gateway)
Electrical Monitoring and Control
ACM100 (Alternating Current Monitor)
DCM100 (Direct Current / Battery Monitor)
DCR100 (Direct Current / Relay Module)
RIM100 (Run Indicator Module)
General systems monitoring / recording
CLM100 (Current Loop Monitor)
FFM100 (Fuel Flow Monitor)
FPM100 (Fluid Pressure Monitor)
RAA100 (Rudder Angle Adapter)
SIM100 (Switch Indicator Module)
TMP100 (Temperature Monitor)
VDR100 (Vessel Data Recorder)
Navigation Instruments
DST110 (Depth / Speed / Temperature)
GPS200 (GPS Antenna / Receiver)
SSC300 (Solid State Compass)
WSO100 (Ultrasonic Wind and Weather Station)
Legacy Products
EMS100 (Analog Engine Monitoring System)
MBB100 (Black Box Vessel Monitoring and Control)
SCC200 (Solid State Compass)
TSM800 (8 Inch Vessel Monitoring and Control Touchscreen)
TSM1330 (13.3 Inch Vessel Monitoring and Control Touchscreen)

We are local to South Florida!
Get in touch with our marine specialist
CZone digital switching incorporates newer technology to make controlling and monitoring of complex electrical systems much easier and user friendly.
CZone replaces and removes multiplex switches and fuse panels with optimum cutting edge technology. These powerful interfaces and a light NMEA 2000 network cable are the main components to Czone digital switching systems. This provides a sophisticated but user friendly solution delivered via automation of the control and monitoring issues required by your vessel. MEI takes the complexities out of Vessel monitoring and control systems and lets you rest assured that everything is under control at the dock or on the open ocean.

CZone permits the user to have control over multiple circuits with 'One Touch' too drastically streamline and make operations much easier. You can now have complete control potentially available at your disposal at any point in the NMEA network, fingertip 1 touch control is available all over and anywhere around the boat, through the dedicated CZone screens, smart devices, a remote keyfob or through the navigational Multi-Function Displays of our integration partners.

By dispersing and reorganizing your installation, it's possible to create a smarter much more efficient digital switching system with much less cable.
This also means much less weight which equals less fuel consumption. You also lessen your chances of the cable becoming compromised due to chafing in cramped quarters not to mention the tolls of the marine environment. Switchboards are replaced by decentralized power outputs, which are controlled by the NMEA network. The majority of these are pre-built and flexible to allow modular installation of the electrical system. MEI favors the user friendly plug and play connection of modules and wiring harnesses that exponentially speed up the installation production. The decentralized CZone digital switching system also offers greater flexibility in electrical and electronic equipment layout. OEMs commend CZone for their optimum use of available space in commonly over crowded areas loaded with equipment.